Exhibition and sales terrarium marketplace in Prague

The exhibition market will be opened again on 7th of July at 8am.
TERRABAZAR is the oldest terrarium marketplace in Prague founded by Terrarium Association of Prague. After a long time this marketplace relocated closer to the underground station "Pankrác". It takes place regularly once per month.
Schedule of the exhibition and sales terrarium marketplace in Prague:
The entry for the public is from 8 a.m. to 12 p.m.


Address: První jazyková základní škola, Horáčkova 1100, Praha 4, u metra Pankrác
Add dates to Google calendar Download dates in format iCal
What you can see and buy at Terrabazar?
All species of terrarium animals directly from breeders such as: turtles, snakes, geckos, lizards, chameleons, spiders, bugs, exotic birds, guinea pigs, frogs, hedgehogs, rabbits, mice etc.
There is a huge choice of aquarium and terrarium plants from growers.
You can find there also a large selection of feed: dry, live and frozen food such as Crickets, larvae, mice, rodents and vitamin supplements.
You can also buy some special literature: Czech and foreign specialized books and magazines.
We can offer you: all types of terrarium such as simple or fully equipped, specialized lamps and bulbs, heaters, incubators, substrates, decorative branches and bark.
There is a possibility to order gluing aquariums and terrariums by its dimensions.
Free expert consultation directly from terrarists and breeders with wide experience in the terrarium branch.
At our marketplace of nearly 1,000 m² you have great opportunity to buy animals and equipment for better prices than at the final dealers.
We can offer you the consultation with the veterinary surgeons MVDr. Sebastian Franco, an expert on reptiles.
There is a possibility of the legislative and breeding consultancy with experienced terarists from Terrarium Association of Prague.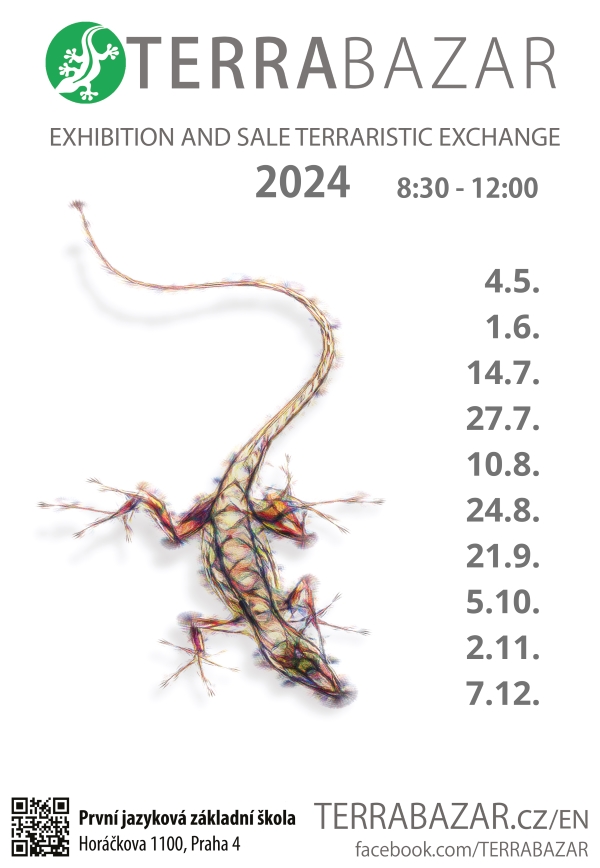 It would be our pleasure to give advice to the beginners what animal to choose and we can also answer all the questions about the feeding of animals, about the equipment of terrarium etc. The animal you buy here can be checked by the veterinary sourgeon. You will get the information about currently valid law conditions (whether or not the animals need to be registered, till when and where, whether the seller provided you with all the necessary documents for the registration, what to do in case you decide to sell the animal and what to do in case that you manage to reproduce it.
Admission:
After the opening of the exhibition there is the widest choice of animal species, because during the day they come up for sale.
9 a.m. to 10:30 a.m. - 100,- CZK
11 a.m. to 12 p.m. - 60,- CZK
up to 15 years free of charge when accompanied by parents
ZTP and visitors oldest 65 years - 0,- CZK
How to get there:
Parking is possible around the school (in the street, in front of Norma, in the Arkády shopping centre - three hours of parking for free), on the weekend is possible parking on parking areas free. Please, don't park on the sidewalk in front of the school or at the crossroads (You'll avoid an unpleasant parking fine). There's a lot of parking spots around the school. Thanks for understanding. The premises are monitored by CCTV.